The right company to achieve my goals: With around 3,100 employees worldwide, IMS Gear develops and produces specific drive solutions for international customers. In addition to the industry focus Automotive, the focus is on applications for industry and e-mobility concepts. The company is subdivided into 29 entrepreneurial business units, each with a closed value chain. This provides extensive opportunities to develop according to individual interests and abilities.

IMS Gear is looking for people who want to make discoveries and break new ground. Anyone who acts independently and is ready to take responsibility is right here. Open communication and teamwork are key words for the partnership in the company.
IMS Gear stands for
Openness
Respect
Community
Reliability
Culture
At IMS Gear we act responsibly and focus on partnerships with our customers and stakeholders worldwide. Values such as reliability, enthusiasm, and respect link us across borders and make us successful. We think globally. Together with our customers, we enjoy an international presence and have a presence in several different countries. We foster interaction associated with our global thinking because new perspectives and knowledge help us to develop further.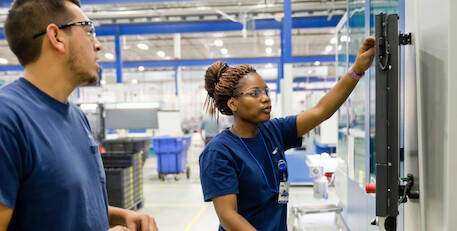 Family-owned company
As a family-owned company with a long tradition, we have a strong identity that informs our work daily. We think long-term, communicate on equal terms and always react reliably within and outside the company. Success make us independent. We maintain the autonomy of our business through commitment and drive. Anchored in stable social structures, we will continue to make the right decisions also in the future.
Vision
IMS Gear is an autonomous and independent family-owned company and we see ourselves as partners with our customers. Our profitability is ensured through our technological leadership in products and process and through controlled growth. We cultivate an international culture with social responsibility, which we convey via our values.
Values
Openness, Respect, Community, Reliability, Enthusiasm, and Courage are all part of the IMS Gear culture. These values are designed to promote mutual understanding, foster a good working climate and provide a reference for day-to-day relations.
Worldwide
IMS Gear produces for the international auto market and has locations on three continents. Global wide projects, involving a transfer of knowledge and skills across countries, make the work in the company interesting and varied. At the same time, the international structure of high-performance business units guarantees diverse development opportunities.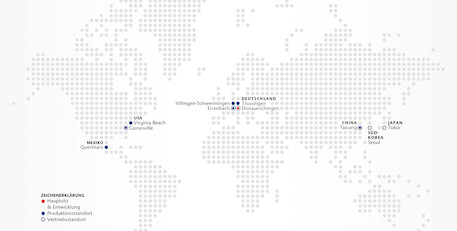 Germany
The "Innovation Axis Stuttgart-Zurich" is one of the strongest economic areas in Europe with very good transportation links. It is no coincidence that the region between Hochschwarzwald, the Danube Valley, and Lake Constance is one of the most popular locations in Germany. University cities such as Freiburg and Constance appeal to the young with its international flair, while the area around Villingen, Schwenningen, and Donaueschingen is attractive for its natural beauty, sports, and family offerings.
USA
The two southeastern U.S. locations, Gainesville, Georgia and Virginia Beach, Virginia owe their attractiveness not only to being close to other major metropolitan areas, but also to their proximity to natural settings such as the Appalachian Mountain chain, beautiful beaches, and the Chesapeake Bay. In the world's second largest automotive market, the locations also benefit from good airport connections, shipping options, and state-of-the-art production environments.
Mexico
Querétaro is two thousand meters (approx. 6562 feet) above sea level. The dynamic business metropolis in the center of Mexico has a strong industrial presence, but at the same time it has retained its historic flair. In a few hours' drive, going east or west, you can reach the Pacific Ocean or the Gulf of Mexico. With many direct flights you have easy access to North, Central, and South American locations.
China
The Asian automotive market has the strongest growth worldwide. The newest IMS Gear Group location in Taicang is not far from metropolitan Shanghai. This modern facility provides an environment with high quality and production standards. Taicang has received numerous awards as a green city and a particularly attractive tourist center.
IMS Gear Offers Me More
IMS Gear cares about the well-being of its employees and that is why the company offers a comprehensive benefits package to eligible employees. Benefits include medical, dental, and vision insurance, vacation/paid time off and holidays, performance bonus participation, 401(k) plan, tuition reimbursement, disability and life insurance/supplemental life insurance, a wellness program, and an employee referral program.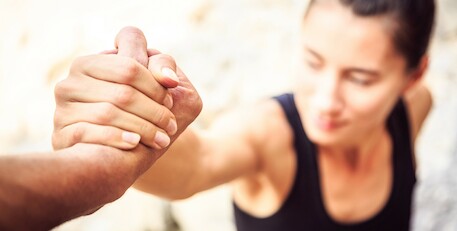 Compensation
Our employees benefit from competitive pay within our industry and geographical locations.
Apprenticeship
IMS Gear offers 2-year apprenticeship programs for a defined career path in lieu of a 4-year college degree program. Hands-on career training is received in our apprenticeship lab under the guidance of talented, industry professionals. Apprenticeships provide employees the ability to work while earning a competitive, guaranteed, hourly rate, and participate in a competitive benefits package.
Apprentices receive job-specific classroom instruction with free tuition and books resulting in zero student debt. Upon successful apprenticeship completion, participants receive a nationally recognized credential, a Journey-Worker Certificate, presented by the Department of Labor and Industry. Additionally, there is the strong potential for career advancement with IMS Gear.
Global Opportunities
At IMS Gear, employees can broaden their horizons and gain new experiences by working for a specified time at production facilities in the USA, Germany, Mexico, and China. This is done to help the employee understand the global marketplace and immerse themselves in a different culture.
Employee Wellness
IMS Gears wellness program offers employees' access to e-learning programs and events related to wellness. Additionally, employees can receive a discount on their medical insurance premiums when they complete certain annual and preventative screenings.